MANAGERIAL USE OF ICT
MAIL MERGE

From:
Overseas Employment,
Plot 4A Neptune Street,
Market Plaza,
KAMPALA.
Subject: Your Application dated «APPLICATION_DATE» for the post of «JOB_TITLE»
Dear «NAME»,
You are required to attend the final interview on «INTERVIEW_DATE» for the post of «JOB_TITLE» at «INTERVIEW_TIME».
The interview is to be held at Hotel «HOTEL».
Please bring your original passport, a copy of your biodata and all testimonials along with one duplicate copy for our evaluation following the interview. Also bring 6 passport size photographs.
Thank you.
For Overseas Employment Corporation.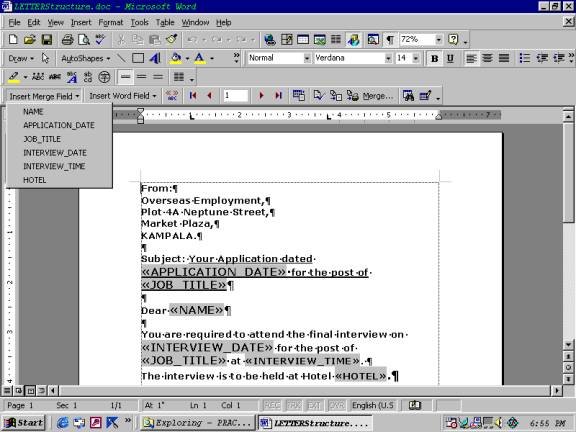 The screen shot above shows the letter after the source data has been defined and the merge fields have been defined. To make progress, what is required is to proceed with the merge by clicking on the merge option of the menu.
When the merge is executing, it takes the particulars of the addressees row by row and produces as many letters as there are particulars. The number of letters equals the number of rows of the source data table.