Back to Home Page of CD3WD Project or Back to list of CD3WD Publications
---
Importance du stade de récolte pour la commercialisation de la banane plantain au Cameroun
---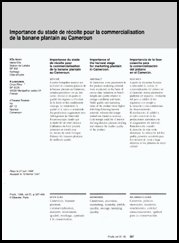 ---
Reçu le 27 juin 1995
Accepté le 19 février 1997
N'DA ADOPO
Idefor/Dfa
Station de Lataha
BP 856
Korhogo
Côte-d'Ivoire
A LASSOUDIERE
Cirad-Flhor
BP 5035
34032 Montpellier cedex 01
France
J TCHANGO TCHANGO
Ira
BP 13
Njombé
Cameroun
Fruits, 1996, vol 51, p 397-406
© Elsevier, Paris
MOTS CLÉS
Cameroun, banane plantain, commercialisation, maturité, rendement, qualité, stockage, aptitude à la conservation.
KEYWORDS
Cameroon, plantains, marketing, maturity, yields, quality, storage, keeping quality.
PALABRAS CLAVES
Camerún, plátano, mercadeo, madurez, rendimiento, calidad, almacenamiento, aptitud para la conservación.
Importance du stade de récolte pour la commercialisation de la banane plantain au Cameroun.
RÉSUMÉ
À partir d'enquêtes menées sur la chaîne de commercialisation de la banane plantain au Cameroun, certains paramètres ont pu être suivis: évolution du poids et qualité des régimes en fonction de la durée et des conditions de stockage. Le rendement, la qualité et la valeur commerciale des productions augmentent avec l'allongement de l'intervalle floraison coupe, tandis que la durée de vie verte diminue. L'utilisation du froid pourrait présenter un intérêt pour les circuits de vente à longue distance des bananes plantains de meilleure qualité.
Importance of the harvest stage for marketing plantain in Cameroon.
ABSTRACT
In Cameroon, some parameters in the plantain marketing network were monitored on the basis of survey data: variations in bunch weight and quality relative to storage conditions and times. Yield, quality and marketing value of the product were higher with long flowering harvest intervals, whereas the unripe period was found to decrease. Cold storage could be of interest for long-distance plantain retailing and enhance the market quality of the product.
Importancia de la fase cosecha para la comercialización del plátano en el Camerún.
RESUMEN
A partir de encuestas llevadas a cabo sobre la cadena de comercialización del plátano en el Camerún, ciertos parámetros pudieron ser seguidos: evolución del peso y calidad de los régimenes con arreglo a la duración y a las condiciones de almacenamiento. El rendimiento, la calidad y el valor comercial de las producciones aumentan con el alargamiento del intervalo floración-corte, cuando la duración de vida verde disminuye. La utilización del frío podría presentar un interés para los circuitos de venta a larga distancia de los plátanos de mejor calidad.
© DFA/IDEFOR
The copyright of this publication is vested in the DFA/IDEFOR. Applications for permissions to reproduce this publication, in whole or in part, by any method or process, should be addressed, with a statement of purpose and extend of the reproduction desired, to DFA/IDEFOR.
Cette version numérique du document a été scannérisé en utilisant des logiciels de reconnaissance optique de texte (OCR) et en vérifiant manuellement et attentivement le texte. Bien que la digitalisation soit de haute qualité, la FAO décline toute responsabilité pour les éventuelles différences pouvant apparaître dans ce document par rapport à la version imprimée originale.
---
---