1. Purpose of centring, drilling and counterboring/countersinking
Centring, drilling and counterboring/countersinking are metal-cutting operations with single-, double- and multi-edged cutting tools which are constantly in action. They are used to produce internal surfaces of rotationally symmetrical parts (rotating around their axis of rotation).

Figure 1 Inside machining of parts by centring, drilling, counter-boring/countersinking
1 centre hole,
2 drilled hole,
3 bored/counterbored hole
Centring is a cutting operation with primarily double-edged tool (centre drill) but also with single-edged tool (turning tool). It is used prior to other cutting operations, such as turning between centres, taper turning, drilling and grinding. The work-piece is fixed in a certain position (mostly central position) to the axis of rotation.

Figure 2 Centring on the lathe
1 drill chuck,
2 sleeve,
3 tailstock,
4 workpiece
The main types of centre holes are centre holes types A and B. Type C (protected cylindrical centre holes) are rarely used. Drilling is like centring a cutting operation with single- or double-edged tool.
Drilled holes are required, for example, to locate screws, rivets, bolts, pins. shafts and other cylindrical parts.

Figure 3 Drilling on the lathe
1 chuck,
2 workpiece,
3 twist drill
Counterboring/countersinking is a cutting operation with a multi-edged tool for the purpose of enlarging, boring, spot facing, deburring and chamfering drilled holes. Counterboring/counter-sinking is required, for instance, for inserting bolt, rivet and screw heads into a part.


Figure 4 Boring/counterboring with the turning tool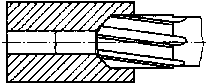 Figure 5 Counterboring with the piloted counterbore
Counterboring/countersinking is also used to produce plane seating surfaces for screw heads and other machine elements on castings with uneven surface.

Figure 6 Counterboring with the counterbore
What is the basic purpose of centring, drilling and counter-boring/sinking tools?
____________________________________________
____________________________________________