Back to Home Page of CD3WD Project or Back to list of CD3WD Publications
---
| | | |
| --- | --- | --- |
| | | Better Farming Series 32 - Biogas 2: Building a Better Biogas Unit (FAO, 1986, 47 p.) |
| | | Temperature |
| | | (introduction...) |
| | | Cold weather protection |
Better Farming Series 32 - Biogas 2: Building a Better Biogas Unit (FAO, 1986, 47 p.)
Temperature
107. You have been told in Booklet No. 31 that biogas is best produced at a temperature between 32 and 37°C. When the temperature is below 15°C, almost no gas is made.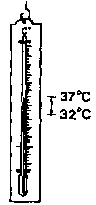 Temperatures to produce biogas
Cold weather protection
108. If the temperature where you live often falls below 15°C, you can keep the waste mixture warm by covering this biogas unit with plant materials such as leaves, grass, straw or maize stalks.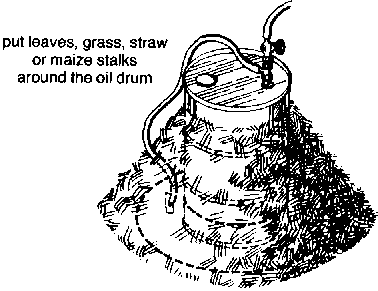 Protect the drum oil
109. However, as you were told in Item 28 in this booklet, you must not put this unit underground as you could with your old unit or you will not be able to shake it to break up the scum