Back to Home Page of CD3WD Project or Back to list of CD3WD Publications
---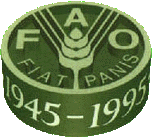 An atlas of food and agriculture
---
Food and Agriculture organization of the United Nations
Rome, Italy, 1995
This book, issued on the occasion of the 50th Anniversary of the Food and Agriculture Organization of the United Nations, has been prepared with financial support from:
British Overseas Development Administration
Ministère français des Affaires étrangères
Ministerio español de Agricultura, Pesca y Alimentación
Ministry of Agriculture, Nature Management and Fisheries, and Ministry of Foreign Affairs, The Netherlands
Italian National Committee for celebration of the 50th Anniversary of the United Nations
What is a healthy diet and just how many of the 5 700 million people in the world have one? What do they eat and how is it produced? Has food production risen and can it keep on doing so? Is there enough land and water to support the world's increasing population and how must agriculture adapt to provide sustainable food security for everyone into the twenty-first century?
Dimensions of Need is published to mark the 50th Anniversary of the Food and Agriculture Organization of the United Nations (FAO). Its easy-to-read text, exemplified by more than 600 photographs, maps, charts and diagrams, reviews the state of the world's food resources, its agriculture, forests and fisheries, and describes the kinds of action being taken to conquer hunger while protecting and conserving the planet's natural resources and environment.
"If understanding leads to compassion, then my fervent hope is that this book will help the reader understand the principal issues involved in feeding the world. It could make a difference to 800 million chronically undernourished people. Dimensions of Need is about the challenges that have, over the past 50 years, largely shaped FAO. They can be summarized in terms of inequity, hunger and poverty."
Dr Jacques Diouf
Director-General of the Food and Agriculture Organization of the United Nations
Editor
Tony Loftas
Assistant to the Editor/Principal researcher
Jane Ross
Contributing editors
Geoffrey Lean, Don Hinrichsen, Mary Lean, Christine Graves, Peter Lowrey
Editors
Jane Lyons, Helen de Mattos-Shipley, Felicity Greenland, Julia Holgate, Anna Sanchez
Principal technical advisers
Tim Aldington, Robert Brinkman, William Clay, Stephen Dembner, Jacques Du Guerny, Serge Garcia, James Greenfield, Simon Hocombe, Simon Mack, Jorge Mernies, Franco Pariboni, Richard Perkins, Wim Sombroek, Jeff Tschirley
Other technical advisers
Abdolreza Abbassian, Nikos Alexandratos, Murthi Annishetty, Sebastiao Barbosa, Christian Chikhani, Adele Crispoldi-Hotta, Guido Gryseels, Ali Arslan Gürkan, Klaus Janz, Panos Konandreas, Andrew Macmillan, Miles Mielke, Berndt Müller-Haye, Freddy Nachtergaele, Christel Palmberg-Lerche, Paul Reichert, Ed Rossmiller, Roland Schurmann, Hermann Schmincke, Jan Slingenbergh, Jerzy Serwinski , Victor Villalobos, Robin Wellcome, Chan Ling Yap
Many other FAO staff, too numerous to name individually, have also assisted by virtue of their contributions to the work of the Organization and advising on specific questions. The editors and compilers of the book have also received significant assistance from other agencies and organizations both within and outside the United Nations system including the International Fund for Agricultural Development (IFAD), the International Service for National Agricultural Research (ISNAR), the United Nations Environment Programme (UNEP), the Office of the United Nations High Commissioner for Refugees (UNHCR), the World Bank, the World Food Programme (WFP) and the World Health Organization (WHO).
French, Spanish, Italian and Dutch editions
French: Elizabeth Ganne, Anne Walgenwitz, Ros Schwartz, Myriam Boyden
Spanish: Daniel Nogués Durán, Darío Moreno Falcon
Italian: Ros Schwartz, Manuela Guastella, Luca Salice, Ernestine Shargool
Dutch: Marion Drolsbach, Arnie Hemmes, Aletta Stevens
Design
Ian Price
Cartography and diagrams
David Burles
Illustrations
Mikki Rain
FAO graphics and FAO photo research
Scott Grove, Alex Rossi, Nick Rubery, Giampiero Diana, Giuditta Dolci-Favi, Joanna Maltby-Monaldini, Sergio Pierbattista, Francesco Sponzilli (stamps, coins and medals)
Colour separations: Fleet Litho
Printed and bound in the UK by the KPC Group, London and Ashford, Kent
No part of this book may be reproduced by any means, or transmitted, or translated into a machine language without the written permission of the publisher
The designations employed and the presentation of material in this publication do not imply the expression of any opinion whatsoever on the part of the Food and Agriculture Organization of the United Nations concerning the legal status of any country, territory, city or area or of its authorities, or concerning the delimitation of its frontiers or boundaries. The designations "developed" and "developing" are intended for statistical convenience and do not necessarily express a judgement about the stage reached by a particular country, territory or area in the development process.
The stamps, coins and medals featured in the book are available through: Money and Medals Programme, FAO, Rome, Italy
A Banson production
Prepared in cooperation with the Information Division, Food and Agriculture Organization of the United Nations
by Banson
3 Turville Street, London E2 7HR
First published in 1995 by the Food and Agriculture Organization of the United Nations
Viale delle Terme di Caracalla, 00100 Rome, Italy
All rights reserved
Reprinted March and September 1996
Copyright (c) 1995 by FAO
ISBN 92-5-103737-X
M-66 V8480E/1/9.95/6000
---